SPARK Learning Journey
The Spark Faculty at Shavington Academy consists of 5 Teachers.
Pupils explore a range of topics that are age appropriate and relevant to our cohort within the local area as well as society.
The provision allows pupils to develop acquire and grow in knowledge while considering a range of situations in a positive environment. Pupils develop their ability to listen and openly discuss key issues. Overall, developing the ability to improve decision making, minimise risk and become responsible citizens who are accountable for their actions.
Faculty Details:
All Key Stage 3 &4 pupils study Spark for one hour per week.
Spark is taught through focusing on three Key areas which are:
Relationships
Living in the Wider World
Health & Well-being
Spark Team –
Mrs L. Stewart (Curriculum Leader) lstewart@shavington.academy
Mr M. Nicolle (Assistant Headteacher)
Miss O. Barrow
Mrs I. Bettley
Miss C. Bartram
Intent:
To develop clear pathways from Year 7-11 that focus on a range of topics that are age appropriate.

Create a culture where pupils are confident to discuss key issues within class and are aware of support available.

Develop a curriculum based on developing knowledge, decision making and risk awareness as well as foster an environment where pupils can learn, evaluate, and explore with enthusiasm and confidence.

Allow pupils to develop their ability to:
Make effective decisions
To be aware of risks and how to minimise risk for themselves and others
To be respectable citizens and a good friend.
Promote a positive environment for all to learn.
Allow discussion and debate so all viewpoints are considered and pupils also learn from one another.

Staff and pupils confident to challenge inappropriate language; question/debate viewpoints.
Implementation
Key focus areas:
Relationships (Including – healthy and unhealthy signs. Qualities within a relationship; relationship status; harassment, consent)

Living in the Wider World (Including -Finances, Careers and Diversity)

Health and well-being (Including - Transition; Healthy lifestyles; Drugs; influences; Emotional/ Mental Health)

Key areas revisited and developed knowledge over time

Relevant news examples used to support pupil development and link to real life experience.

High standards and expectations of all pupils

High quality resources are use that are rigorously assessed and recommended
Impact
A full diverse curriculum allows pupils to question, develop and refine responses

Pupils have the skills to question and the knowledge of support available.

Pupils will have the confidence to progress and challenge where appropriate or offer guidance to signpost others if needed.

Pupils will be confident to express themselves in evolving situations, and be aware of coping mechanisms to manage situations that may arise in the future.

All feel able to express their opinion but have the ability to acknowledge others.

Pupils become confident in questioning and challenging in an appropriate respectful manner
Learning Journey
Year 7
Year 8
Year 9
Year 10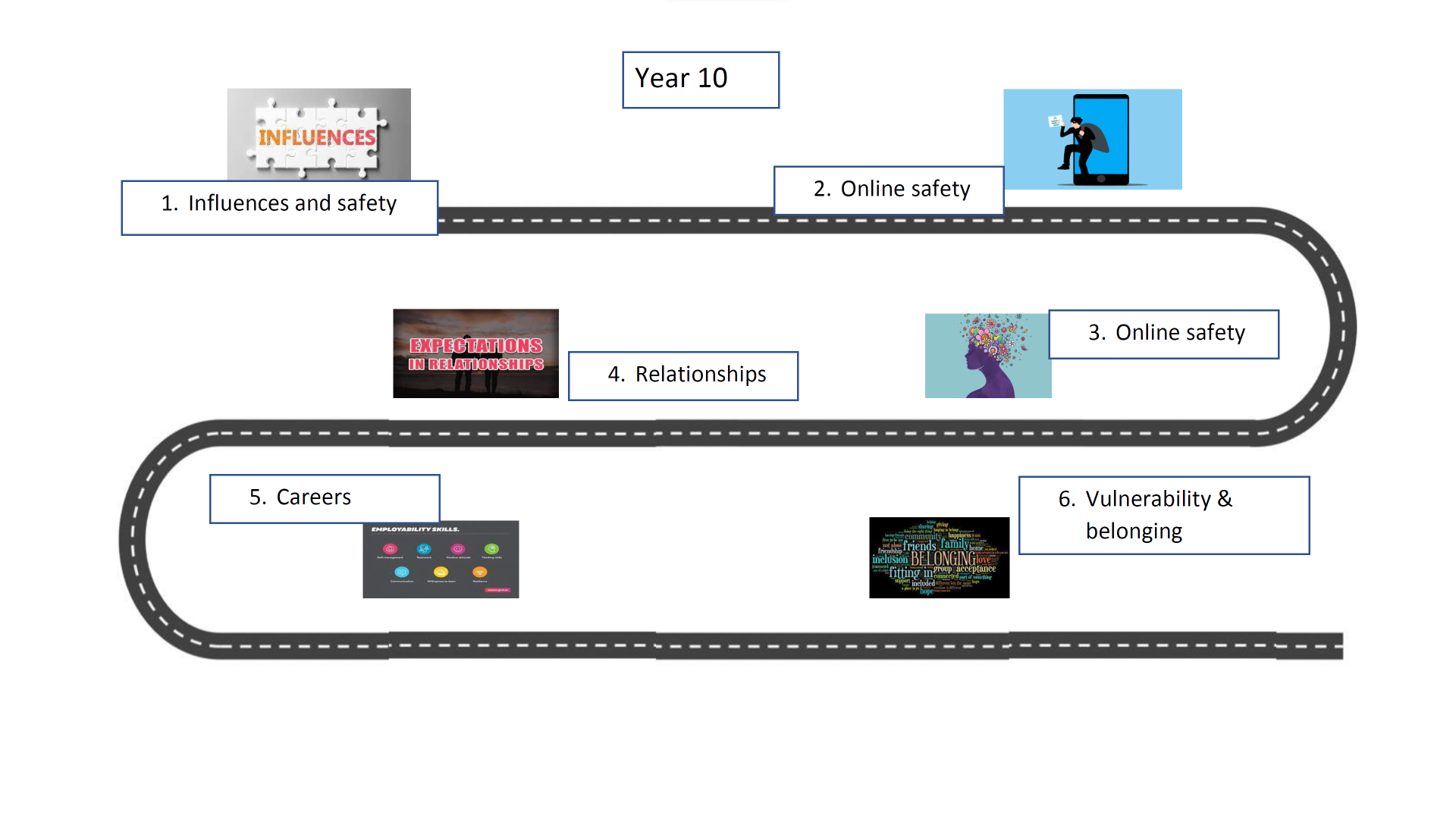 Year 11